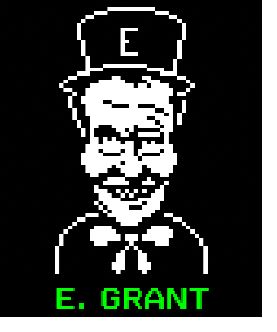 Darling! It's me - cut-glass national treasure, Richard "E" Grant!
You're probably wondering where my nickname came from. Well, between you and me, I was the inspiration for the song "Ebeneezer Goode" by The Shamen.
But when I'm not inspiring subversive rave super-hits by getting munted off my gourd, there's nothing I like more than fingering the index of the Argos catalogue.
I enjoy fingering other things, too, of course. Such as the wonderful index of Digitiser video game reviews you'll find below!
Has anyone got any Veras?
---
Digitiser Video Game Reviews
Welcome to the Super Page 58 archive of Digitiser video game reviews. Digi was a daily teletext-based games magazine that ran in the UK from 1993 to 2003, and over its ten years on air reviewed thousands of games – including countless titles that are now considered retro gaming classics.
Many of these reviews are indexed and collected here. Thanks to its decade-long run, they cover the last days of the 8-bit systems, continue through the heights of the Mega Drive and SNES, the whole lifecycle of the PlayStation, and go right up to the dawn of the Xbox and GameCube.
Always known for its biting honesty and journalistic integrity, at a time when many other games writers weren't above being "influenced" by PR teams seeking a good review, this treasure trove represents some of the most objective and critically-robust games coverage of their era. And for anyone not familiar with Digitiser – many of them also happen to be very funny, and very silly.
While not every Digitiser review ever written is included as they haven't yet been unearthed by teletext recoverers, the range that is available is extraordinarily extensive.
More than 2,000 games rated. Over 1,000 full reviews.
Taken as a whole, this collection isn't just a document of retro game reviews – it's a time capsule from another era.
---
Searching the index
Use the search bar to find game reviews. Results can be sorted by clicking any of the column headings in desktop view, narrowed down using search terms including systems, dates, or review scores - even as a range, such as >71% <88%. They can all be combined in the same query. Column sorting toggles between ascending and descending order by clicking the headings. Titles in bold text link to the review, if available.
Digitiser used various rating systems throughout its life, beginning with marks out of five - but review scores in percentages account for the majority of the marks given. Sorting the rating column automatically normalises the scores to allow ratings of 3/5, 6/10, or 60% to all appear alongside each other for comparison purposes.
To help with this, where a game was originally given a mark out of five or ten, but later quoted as a percentage, the percentage score is used in the index and a note added to its review page. Otherwise, only the first marks awarded to the game are recorded, not later revisions to them - so Mario 64 is listed as 98%, not the 96% it was later revised down to.
---
Eternal thanks to all of the heroic individuals who have helped this reviews archive come into existence:
Matt Barney for his support, technical wizadry, and unending dedication to the Digitiser cause; Tim Bisley and Andrew Nile for providing text reviews, and to every single teletext recovery enthusiast whose work has helped to add another review to this collection.
And of course, to Paul Rose - Digitiser legend Mr Biffo, author of most of the reviews archived here - for the images that appear on this page, which he made especially for it.
This couldn't have happened without your help, and I'm forever grateful to you all.
- Chris Bell, February 2022
---
Do you know of any important moments from the annals of Digi history that have been omitted? If so, then mail me (superpage58@gmail.com) right now, man. Credit will be duly given for anything that gets put up.