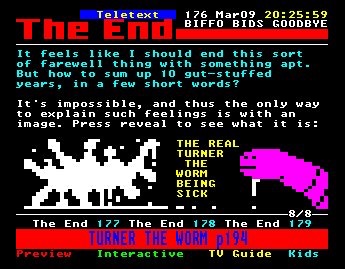 All things must pass, as Woody Harrelson once said or something, and so it was for Digi. After more than ten years of excellence the time finally came for the brown curtain to fall - and boy was it brown (white) when it fell. The final edition of Digitiser has passed into legend and is still referenced and spoken about today. Join us now for a look back, and keep those tissues "handy" - you'll need them. What?
THE END: MR BIFFO BIDS GOODBYE
THE FINAL RING-SIR - TV TEXT, LONDON
FULL FINAL EDITION TELETEXT PAGE ARCHIVE
BIFFO'S LEAVING PARTY - BELLSTON'S DIARY
A special write-up of Biffo's Digi leaving drinks by the little guy that "does" this website, written a couple of days after the lewd events took place (with photos!)
---
Do you know of any important moments from the annals of Digi history that have been omitted? If so, then mail me (superpage58@gmail.com) right now, man. Credit will be duly given for anything that gets put up.