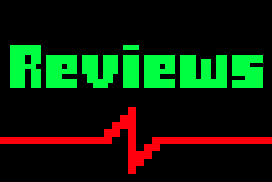 Command and Conquer - PC, 25/9/95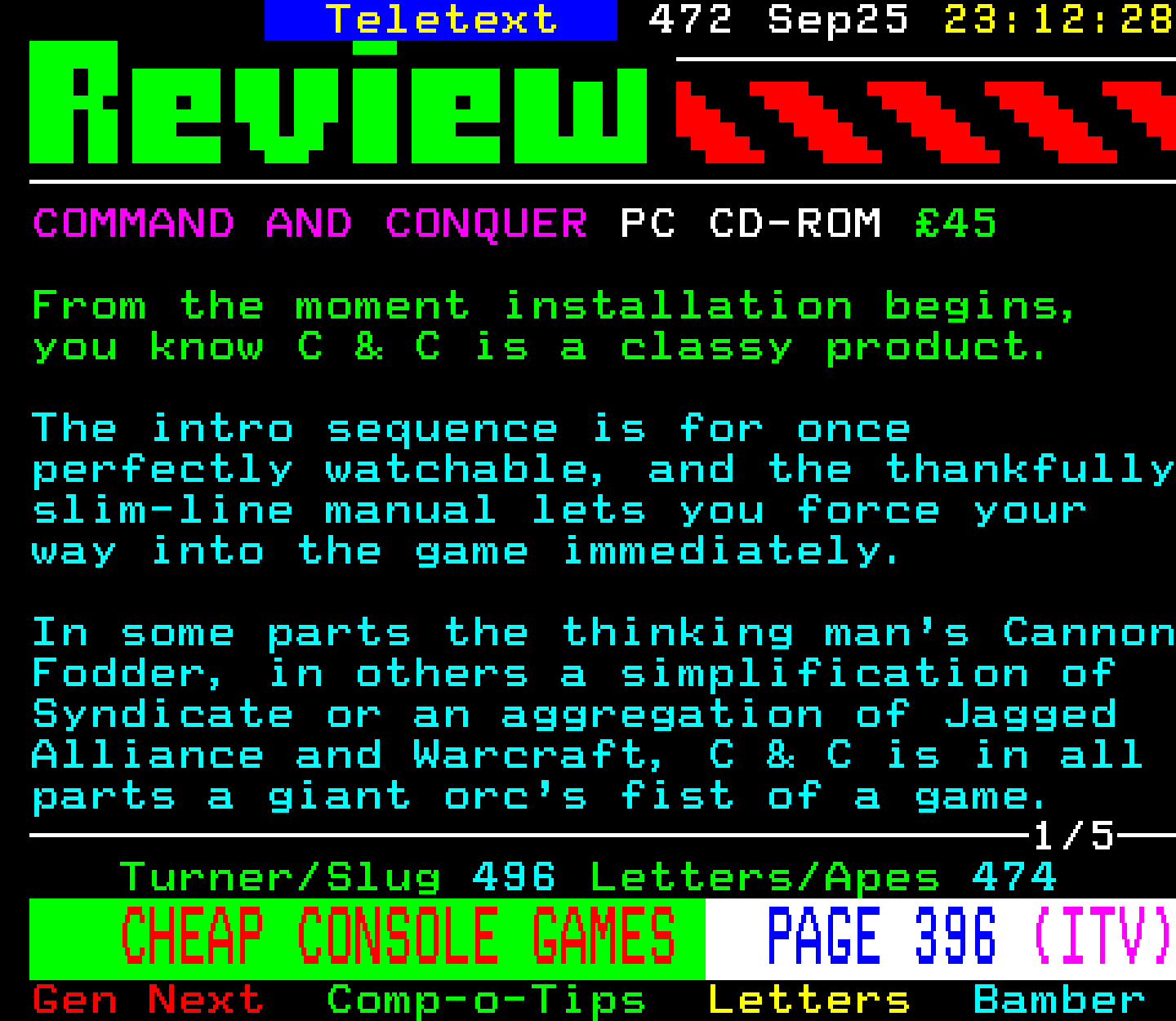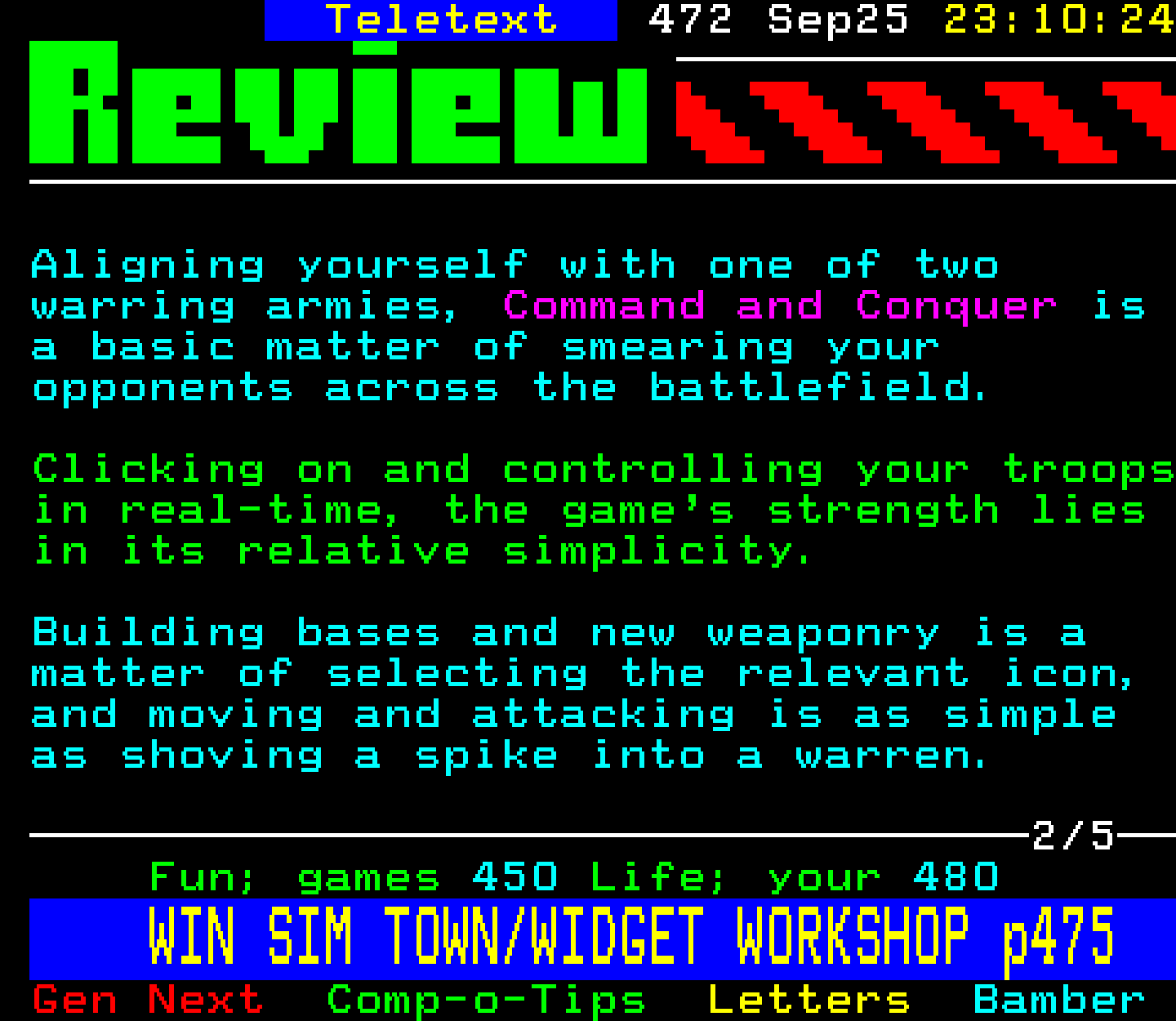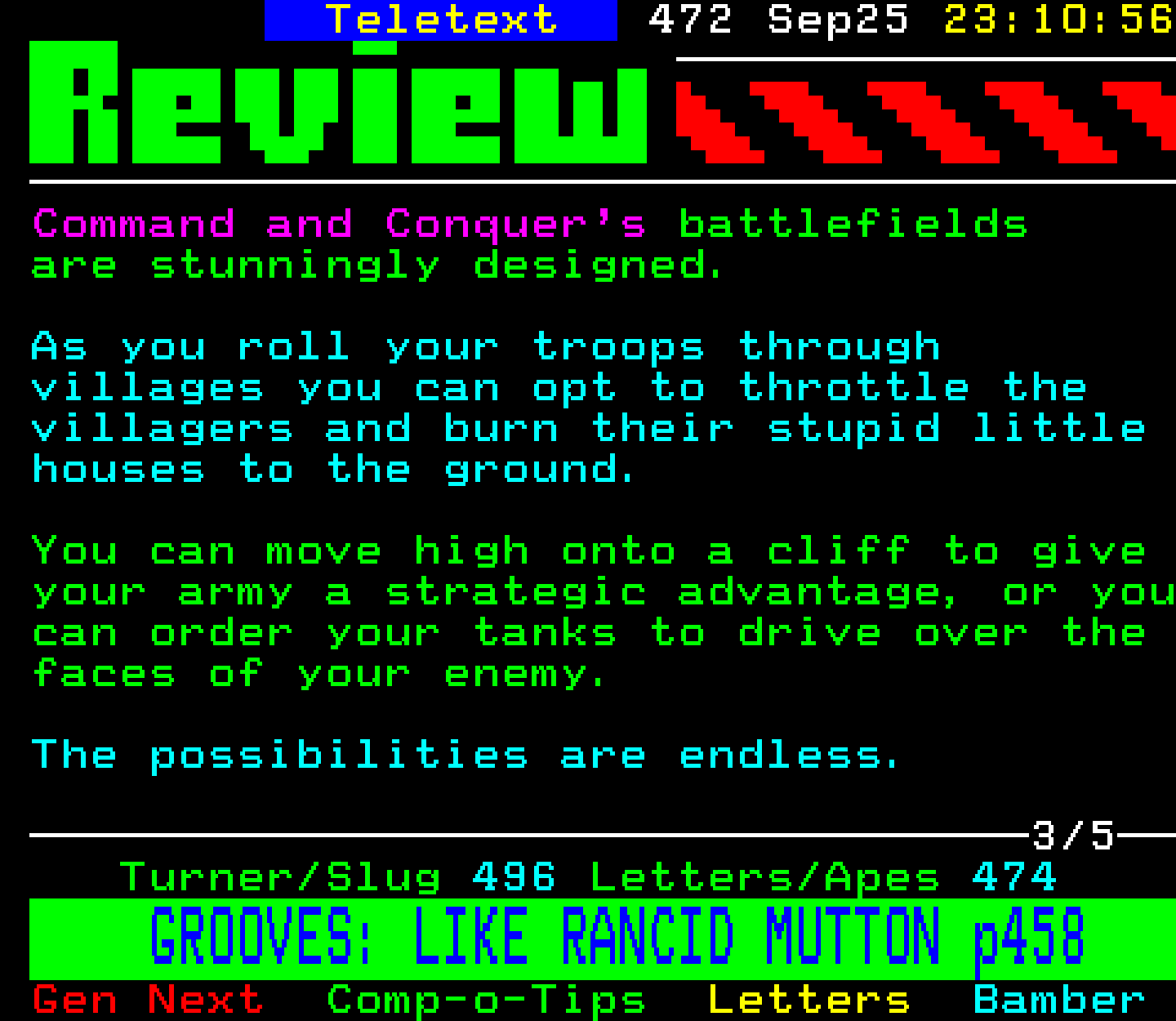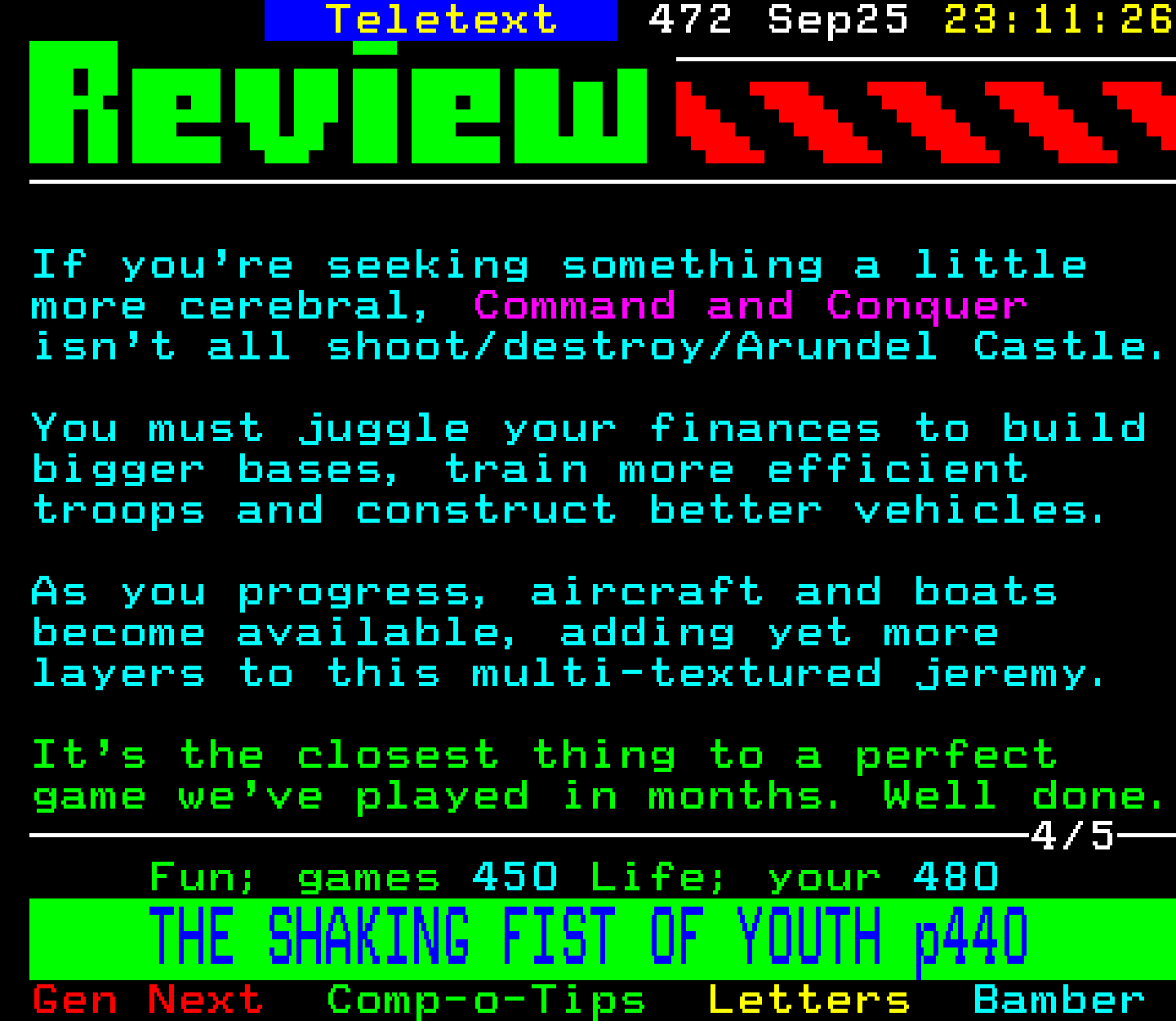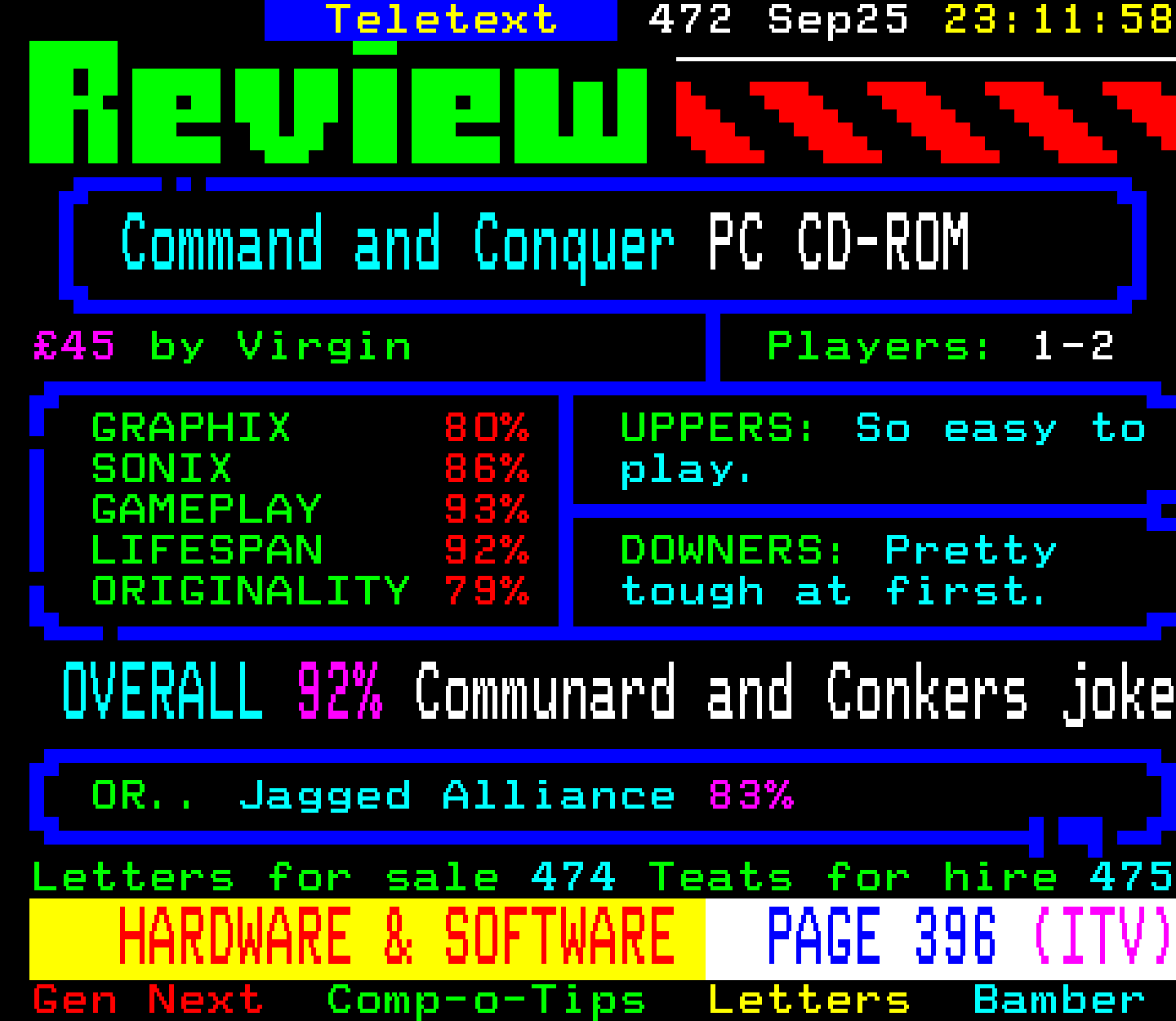 Command and Conquer - PC
From the moment installation begins, you know C & C is a classy product.
The intro sequence is for once perfectly watchable, and the thankfully slim-line manual lets you force your way into the game immediatedly.
In some parts the thinking man's Cannon Fodder, in others a simplification of Syndicate or an aggregation of Jagged Alliance and Warcraft, C & C is in all parts a giant orc's fist of a game.
Aligning yourself with one of two warring armies, Command and Conquer is a basic matter of smearing your opponents across the battlefield.
Clicking on and controlling your troops in real-time, the game's strength lies in its relative simplicity.
Building bases and new weaponary is a matter of selecting the relevant icon, and moving and attacking is as simple as shoving a spike into a warren.
Command and Conquer's battlefields are stunningly designed.
As you roll your troops through villages you can opt to throttle the villagers and burn their stupid little houses to the ground.
You can move onto a cliff to give your army a strategic advantage, or you can order your tanks to drive over the faces of your enemy.
The possibilities are endless.
If you're seeking something a little more cerebral, Command and Conquer isn't all shoot/destroy/Arundel Castle.
You must juggle your finances to build bigger bases, train more efficient troops and construct better vehicles.
As you progress, aircraft and boats become available, adding yet more layers to this multi-textured jeremy.
It's the closest thing to a perfect game we've played in months. Well done.
---
Command and Conquer - PC CD-ROM - by Virgin
Players: 1-2
Graphix: 80%
Sonix: 86%
Gameplay: 93%
Lifespan: 92%
Originality: 79%
Uppers: So easy to play
Downers: Pretty tough at first
Overall: 92% - Communard and Conkers joke
---
Do you know of any important moments from the annals of Digi history that have been omitted? If so, then mail me (superpage58@gmail.com) right now, man. Credit will be duly given for anything that gets put up.