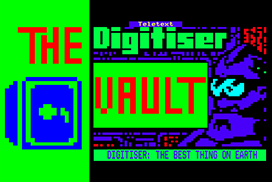 Welcome to Super Page 58's Digitiser Vault - the largest collection of full Digitiser Teletext screenshots anywhere.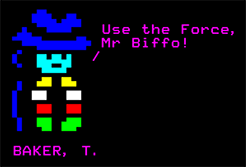 The ultimate aim of this archive is to collate and give a home to every edition of Digitiser ever broadcast on Teletext. It's an unlikely goal, but we can dream!
The images contained here have been painstakingly compiled from a range of sources. Some were captured at the time of original broadcast by TV card-owning PC users, and held onto for years, while others are actual photos people took of their TVs showing Digi pages. But the overwhelming majority of images contained here were only made possible thanks to a number of heroes using code developed by the teletext community to extract the signal from old video tapes, and reassemble the images.
This means that regular old VHS cassettes that you thought were useless could be hiding lost editions of Digi. Be sure to visit The Teletext Archaeologist if you're holding onto any old tapes that you think could have more Digitiser locked away.
Many people helped to make this archive possible, and a full list of those that contributed can be found below. The whole Digi community and I are forever grateful for their superb efforts.
And now, finally, The Digitiser Vault can be opened...
---
Inventory as of 19 September 2023: 48,760 pages from 1,658 editions of Digitiser, out of ~3,000 broadcast
Latest additions: 5/1/93, 28/2/00, 14/11/00, 22/9/01, 7/6/02, 21/6/02, 19/7/02


- Unbroadcast 1992 pre-launch images













Acknowledgements and thanks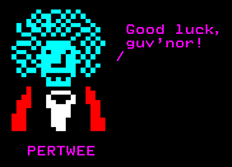 This archive would not have been possible if not for the extraordinary efforts of a number of people. Eternal thanks go to Jason Robertson - The Teletext Archaeologist himself – for his incredible contributions to the community, including a large number of editions of Digitiser; Alistair Buxton, for uncovering many editions of Digi, and for creating the original code that allowed the recovery of teletext from video tapes in the first place; Dan Farrimond for being a legend of teletext art, a cornerstone of the community, and for his Digi recoveries; Ant Purves for making an astonishing number of editions of Digi available; Alistair Cree for his fantastic efforts, allowing us to see a number of key editions, and for general encouragement and support; Wagoo for saving dozens of TV card teletext files of truly classic Digi for over two decades; TV Whirl Terence and Alan Wilkinson for their recoveries of Digi from the early 2000s; Adrian Burke for scores of great quality recoveries, featuring loads of highly sought-after material; Andrew Nile for an enormous number of recoveries from both sides of the millennium and his hugely appreciated efforts coordinating and fixing up submissions from other recovery heroes; Tim Bisley for an unending avalanche of excellent, incredibly valuable recoveries and masses of hard work coordinating submissions from other people; Tom Pitt for scores of crystal clear gems; Xed for his recoveries from the late '90s/early 2000s; James O'Malley for his many recoveries, and Sound.And.Vision, Nigel Reed, Neil Miles, and John Apsinall for theirs. Finally, thanks to David McCaffery for having the foresight with his old Digi-Me-Do page to save screenshots from a TV card - and to everyone else who contributed images to this archive, who remain unknown or anonymous. We're all grotesquely grateful.
Thanks also to Paul Dunning for his help locating more archived images and ensuring they could be displayed in the best possible way, David Walford for the lovely Who-pics, and to the most excellent Matt Barney – long-time friend of Super Page 58 – for his invaluable technical help, which dramatically shortens the amount of time it takes to create this archive and its pages.
And of course, the greatest thanks of all to Mr Biffo, Mr Hairs, and everyone else who made Digitiser what it is - something worth preserving.
Salute-me-do!

---
Do you have any full screenshot images of Digitiser that you'd like to see included in this archive? I'd just love to include them here - please email (
superpage58@gmail.com
) and the Digi community will be eternally grateful. Hey: even photos of your old TV showing the teletext page are good to be included!
---