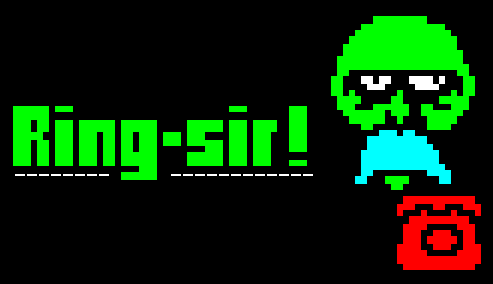 GBA SP Info
1 February 2003
I'm Phoney Honing, the telly phone transcript king!
Who am I? What am I? Why am I here? I don't know. Nobody knows any of that. But here's what I do: I phone games shops, give them a pranking, then transcribe the dialogue for your entertainment. I do this once, twice - three times, m'lady.
This week I've been doing something excellent: calling shops to ask about the new Game Boy Advance SP. Names HAVE been changed...
IMPORT-O-GAMES, NORTH LONDON
IOG: Hello, Import-O-Games.
US: Hello, my friend. I wonder if you could let me have some information on the new Game Boy.
IOG: Do you mean the Game Boy Advance, or the new SP?
US: Atari ST?
IOG: SP. Game Boy Advance SP.
US: What's that?
IOG: It's the same as the old Game Boy, but it's got a light built in and it sort of folds shut.
US: Does it have a hinge?

IOG: I suppose so.
US: What type of hinge is it?
IOG: I dunno. It just closes.
US: It's important that I know. Is it a bracket hinge? A box hinge...? What kind of hinge is it, please?
IOG: It closes shut like...do you remember the old Game & Watch?
US: The Gamen Fop?
IOG: Nintendo Game & Watch. It closes like those. Like a sort of vertical book.
US: It's a book hinge?
IOG: Yeah. Uh... what?
US: Is it ringbound? Perfect bound? Staples? Does it have staples? Staples.
IOG: Look, mate, I'm really busy this afternoon. How can I help?
US: I'm sorry. I just was asking about the hinges.
IOG: I know, but I've got stuff to do, and if there's nothing else you want...
US: When's it out?!
IOG: We should be getting import stock from Japan in a couple of weeks. Now...
US: Now?
IOG: I have to go.
US: Wait, wait. I have one more very important question to ask...
IOG: What?
US: One second... tum tum tum... Do you think... it's possible... if I... came into... the shop... and gave you... some money... you'd give me in return... if you felt like it... some sort of... big kiss?
PHONE CALL ENDS
---
Do you know of any important moments from the annals of Digi history that have been omitted? If so, then mail me (superpage58@gmail.com) right now, man. Credit will be duly given for anything that gets put up.