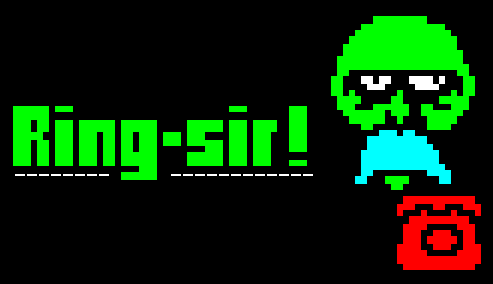 "Gaming Zone Magazine" - Games Mag Complaint
28 March 1998
Mmmmm... ullo. I am the famous Phoning Honey - the green guy who really knows how to cause a stink by getting up the nose of the squares, by calling them up and acting the prank king.
This week I called a leading games magazine to let them know exactly what I thought about stuff. Oh, boy - I really made a monkey outta them! Hey - the actual name of the magazine has been changed to prevent upsets.
"GAMING ZONE MAGAZINE"
US: Hi, is that the editor?
MAG: Er, he isn't here at the moment. I'm reviews editor. What were you calling about?
US: I'm a member of the public, I'm afraid. I've got a complaint.
MAG: OK. Fire away.
US: What are you talking about? How dare you tell me what to do?
MAG: I'm not going to talk to you if you've got an attitude like that.
US: You're the one who's trying to tell me what to do, for heaven's sake. It's you with the attitude, mate.
MAG: I just said tell me what your complaint is.
US: Oh? It sounded like an order to me.
MAG: Well it wasn't.
US: Good. OK. Now, I've always read your mag and I think it's mostly excellent.
MAG: But?
US: What?
MAG: But. I just said "But".
US: But what?
MAG: But you were about to say that you have a complaint.
US: Look, could you just let me get on and tell you what I had to say?
MAG: I'm trying to let you have your say, but you're being really rude.
US: Listen to me. Listen to me: I've become increasingly concerned over the profanity and borderline pornography which your magazine is propagating.
MAG: You did what?
US: I didn't do anything! What the hell are you talking about? Have you gone completely mad?

MAG: Well what are you talking about?
US: I'm trying to tell you that your magazine is full to the gob with smut.
MAG: What smut?
US: You know what smut.
MAG: No I don't.
US: And the rest...
MAG: Look, I don't know what you're talking about. Honestly.
US: Then it's best if we end this conversation now. Goodbye.
---
Do you know of any important moments from the annals of Digi history that have been omitted? If so, then mail me (superpage58@gmail.com) right now, man. Credit will be duly given for anything that gets put up.