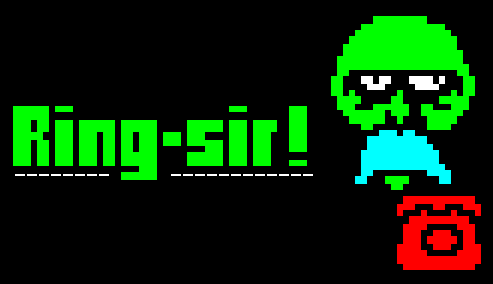 Job Vacancy
12 June 1999
Holey moley - I'm a phonin' homey! That's right: I'm Phoning Honey, the green guy with the great big 'tache who just can't help doing the phoning of the games shops.
This week I've been testing the folk from "oneshopinparticular", to inquire after a job vacancy.
And now the time has come to give you the disclaimer: the names of the callists involved have been changed. T!
"SUPER GAMES", NW LONDON
US: Hi. I understand you've got a vacancy there for a sales assistant.
SG: Yeah, we have. Have you worked in a games shop before?
US: How d'you mean?
SG: Have you worked in a shop before?
US: I've been in shops before, yeah.
SG: Right, but have you ever worked in a shop?
US: Well, of course I've been in shops.
SG: Yes, but have you worked in them?
US: What do you mean "worked"?
SG: Worked. As in worked in the shop. As in had a job in the shop?
US: No.
SG: Right. Thank you. That's what I wanted to know. Do you play games?
US: Do I play games?
SG: Do you know a lot about video games and that?
US: I know of them.
SG: Do you have a console?
US: Yeeeessss... And?
SG: What do you have?
US: When? What?
SG: DO YOU OWN A SONY PLAYSTATION OR ANYTHING LIKE THAT?!
US: I've got a... um, a Game Boy.
SG: The best thing you can do is come into the shop and fill out an application form.
US: What's one of those?
SG: It tells us about your employment history, and stuff. You know, so we know whether we want to interview you.
US: What? Interview me about what?
SG (SIGHS): The job, yes?
US: So I just come into the shop, you do the thing with the thing, and then you interview me and I get the job?
SG: If you're suitable, yes. We really need people who love their games.
US: What games?
SG: Sorry, look, I have to go. I have a customer here.
US: Where?
SG: Sorry. I have to go.
PHONECALL ENDS
---
Do you know of any important moments from the annals of Digi history that have been omitted? If so, then mail me (superpage58@gmail.com) right now, man. Credit will be duly given for anything that gets put up.